Museum of Tatra Mountains
Museum of Tatra Mountains in Zakopane was build in years 1913 – 1922. Seat of museum is a great example of Zakopane architecture style. It includes three exhibitions – historical, ethnographical and natural.
The first one presents past times of Zakopane and Podhale (region in Poland surrounding Zakopane) from the ancient times with the first mentions of human settlement in this area, trough the foundation of a town in 16th century, to World War II period and modern times. Ethnographical exhibition shows how did mountaineers live in the past.
The first floor of museum includes exhibits of Tatra Mountains fauna and flora.
In addiction museum is collecting literature about mountains. There's also a library and reading-room where we are able to plumb history of Zakopane and its precincts.
Key Info
Location: Very heart of Zakopane
Address: Krupowski Street no. 10, Zakopane
Opening hours:
Wen – Sat: 9am – 5pm
Sunday – 9am – 3pm
Entrance fees:
Normal ticket: 7PLN
Students ticket: 5,50PLN
Kornel Makuszynski Museum
Biographical museum of famous Polish writer and poet – Kornel Makuszynski, is really interesting place even for those, who didn't meet writer's output. The seat of museum is in the "Opolanka" villa, where he was spending almost every vacations with his wife, where he stayed after World War II and died in 1953. Villa is another example of Zakopane architecture style.
Kornel Makuszynski is famous especially from the books for children. He created such heroes of children literature like Koziolek Matolek – likeable billy goat, who was traveling around the world, to find a city of goats – Pacanow or Jacek and Placek – two brothers who have stolen the moon. In his museum we can find mostly all his books as also his articles, journalistic works and his letters to friends. Makuszynski was also an art enthusiast so in his house remained sculptures, paintings and many more masterpieces of art.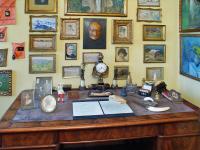 Kornel's room
Kornel Makuszynski Museum is an interesting place which is commemorating interesting person. It's worth to visit it. Maybe some of you will reach for his books. It's true that most of his works are for children, but we're sure that adventures of Koziolek Matolek or Fiki-Miki Monkey are able to make majority of adults laugh of laud.
Key Info
Location: 5 minutes walk from Krupowki Street
Address: Tetmajera Street no. 15, Zakopane
Opening hours:
Wen – Sun: 9am – 3pm
Entrance fees:
Normal ticket: 6PLN
Students ticket: 4,50PLN