Zakopane
Zakopane is a small town in southern Poland known as the capital of Polish Tatra Mountains. In the past it used to be a village of farmers and shepherds but in 19th century it was discovered by Doc. Tytus Chalubinski
– explorer of Tatra's nature, and then it became very popular among Polish artists and intellectuals. Amazing mountain landscapes and wild nature attract thousands of tourists to visit Zakopane every year. Unique architecture styles creates a very specific atmosphere and evenry aspect from each of the idyllic corners of Zakopane makes that the town an ideal place to relax..
Skiing in Zakopane
Those who like active holidays will find delight in the winter sports offers in Zakopane. Snow covers this place from December to March so skiers and snowboarders can expect very good conditions on the slopes. The town provides many high quality skiing centers with lifts, equipment rental and service points and skiing schools, in brief all you need for a satisfying ski break.
The Best Zakopane Slopes & Lifts
Nosal Skiing Center
Skiing Slope Nosal
One of the best skiing complexes in Zakopane. It provides 6 trials with different difficulty levels and total length of over 1500 meters. Except of trials and lifts Nosal Skiing Center provides rental point, ski-service, skiing school and tavern.
Length:
over 1500 meters
Difficulty lvl:
Beginner, Intermediate, Advanced
Address:
Balzera St. No. 30; Zakopane
Prices*:
1 ride – 1,50 PLN
1 hour – 25 PLN
6 hours – 85 PLN
(*Prices can be different depend on season)
Koziniec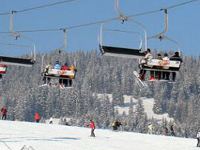 Koziniec
Slope and ski lifts complex placed in the center of Zakopane. It's illuminated and artificially snowed. In the area we can find some fastfoods, bar and equipment rental point.
Length:
200 meters
Difficulty lvl:
Beginners, Intermediate
Address:
Na Antanolowke St. no. 10; Zakopane
Prices*:
Pass Cards for 5 hours – 45PLN
11 hours – 70 PLN
2 days – 135PLN
(*Prices can be different depend on season) Pass card provides unlimited number of rides
Szymoszkowa Skiing Station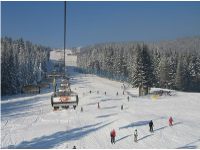 Szymoszkowa
One of the most professional skiing center in Zakopane offering a few slopes with different difficulty level.. Illuminated and artificially snowed with tavern, ski-service, rental point and skiing school in the area.
Length:
1000 meters
Difficulty lvl:
Intermediate, Advanced
Address:
Polana Szymoszkowa no. 2; Zakopane
Prices:
1 ride – 6PLN
10 rides – from 10 to 60PLN depends on slope.