7 Charming Towns in Poland that No Foreigners Ever See
Enchanting towns with cobblestone streets that, often surrounded by medieval walls, are aplenty in Poland. Guidebooks focus on touristy spots such as Warsaw or Krakow, but Poland Guide is going off the beaten track. Today we are exploring seven small towns that not every Pole has even heard of. These cute towns in Poland are worth a day trip, the views are amazing! Whether you are looking for day-trips to take your entire family on or a solo business person needing to drive cross country – we really do recommend stopping and taking a moment for yourself. We know you'll fall in love with quaint Poland, just as you did with Krakow or Warsaw.
An enchating medieval town, surrounded by around 950 metres of defensive walls reaching up to six metres, midway between Wrocław and Częstochowa.
Places to eat
Karczma Nowy Spichlerz (Wąska 5)
Hetman's Restaurant & Pub (Rynek 1)
From Wrocław
By car: take S8 and DK11 to DW487 which leads you right up to the town walls (about 1hour 30 min).
By train: typically six trains daily, duration from 2h 35min,
Example: From Wrocław Głowny @ 12:32 PM train towards Lubliniec (17 stops, 1 h 48 min), transfer at Kluczbork (wait time ~30 minutes), take train 67503 towards Ostrów Wielkopolski (3 stops, 14 min), disembark at Byczyna. The Rynek (town square), is about 15 min by foot (1.2 km).
Szydłowiec (pronounced: shid-wo-veeh-ts) is a charming town that grew around St. Sigismunds Church after becoming the seat of nobility in the early 1400s.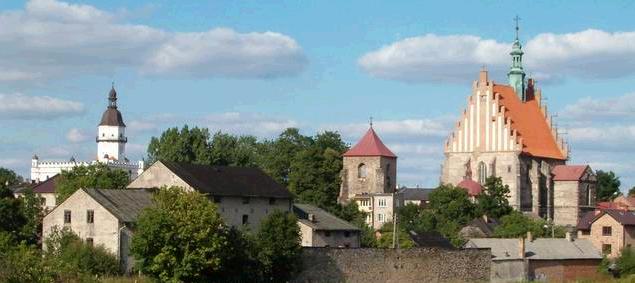 Places to eat
Pasibrzuch Restaurant (Radomska 30)
Piwnica Szydłowiecka (Rynek Wielki 1)
Cafe & Restaurant Zamek (Józefa Longina Sowińskiego 2)

From Warsaw
By car: take DK7/S8 then E77/S7 (signs for Krakow) and finally DK7 which leads you to the city centre (abou 1 h 50 min)
By bus: Usually 4 buses daily, duration around 2h 20 min
sample connection: 12:39 from Warsaw West Station (8 stops) to Szydłowiec- Plac Wolności
Former Teutonic Knights Ordensburg and stronghold since the 11th century, Kwidzyn boasts the largest latrine in Europe connected to a medieval castle via a 54 metre hall.
Places to eat:
Winiarnia Wine Restaurant (Hallera 18)
Miła Restaurant (Katedralna 18)
Zielony Pieprz Restaurant (Mikołaja Kopernika 32A)
From Gdansk
By car: take DK91, then S7 from which you reach A1. At the interchange take DW231, then DK91 and DK90 and in the end DK55 which takes you directly to Kwidzyn (about 1 h 20min)
By bus: duration 2 h, bus (mobilis.pl) at 13:45 from Gdansk (4 stops) to Kwidzyn
Charming Reszel (re-shehl) is where Barbara Zdunek, local which, mysteriously strangled to death minutes before the execution of her sentence – burning at the stake.
Places to eat:
Zamkowa Restaurant ( street Podzamcze 3 )
Rycerska Restaurant ( street Rynek 7 )
From Olsztyn:
By car: there are usually local roads; take Maria Skladowska-Curie street until Partyzantow street, then DK16, DW595, DW593 until Wojska Polskiego street in Reszel ( about 1h 10 min)
By bus: 4 buses daily, from Olsztyn Main Station to Reszel ( 21 stops), sample connection: take a bus from Olsztyn at 14:20 ( usually around 1h 20 min)
Lądek Zdrój is an adorable scenic town located in a valley whose earliest spa facilities existed long before 1241.
Places to eat:
Londyn Restaurant (Lipowa 4)
Alchemia Restaurant (Przechodnia 7)
From Wroclaw:
By car : Take DK8 , then DW390 until you reach Lądek zdrój ( about 2 hours)
By bus: click here for full schedule
Another Teutonic Knight Ordensburg, the gothic Gniew Castle is one of Pomeriania's s most recognisable landmarks.
Places to eat
Restaurant-Bar Zamkowa (27 Stycznia 7)
Karczma Zamkowa (Zamkowa 3)
From Gdansk:
By car: Take S7 toward A1, then take DW229 until DK91, which leads you straight to Gniew
By bus: Gdańsk Main Station offers 5 buses daily to Gniew. The journey takes approximately 1 hr 15 min, Gniew is the 7th stop.
sample connection: Gdansk Main Station @ 12:00, Gniew arrival @ 13:15 (7 stops)
Kaziemierz Dolny gained its prosperity during the 16th and 17th centuries. Since the 19th century it has been attracting tourists and artist due to its scenic location, well-preserved renaissance urban-plan, and charming architecture.
Places to eat:
Akuku restaurant (Krakowska 5)
Zielona Tawerna (Nadwiślańska 4)
From Warsaw:
By car: Take DW631 , exit onto DW 801, later turn right into DW824 (Kazimierska), then some local roads until you reach Kazimierz Dolny
By train and bus: take a train from Warsaw to Lublin , and then the bus from Lublin
sample connection: Warsaw Central Station @ 8:30 am to Lublin (arrival at 11:30) . Walk to Ruska street (about 2km), take the bus at 12:25