Weekend in Gdansk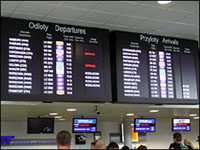 Gdansk Airport Timetable
Gdansk is really beautiful city, so If you have an opportunity to visit it even for only one weekend do not think twice! Of course as a seaside city Gdansk should be visited in the summer. In winter city also has a charm, but whole offer of attractions is available only when it's warm and sun is shining. So if you have a free weekend in June or July you have to visit Gdansk necessarily!
Friday
Welcome in Lech Walesa Gdansk Airport! Fortunately airport is very close to the city centre, so after your accommodation we will have enough time to see something interesting today. Let's go!
Your journey starts where the War has started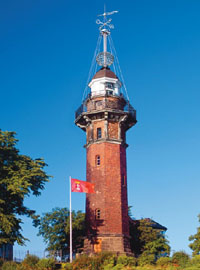 New Port Lighthouse
First thing that I would like to show you is a lighthouse in New Port district. This is one of the most beautiful lighthouses of Polish coast, but it's also imortant for some other reason. From here German soldiers in 1939 gave a signal to start the World War II. Nowadays inside there's a museum of lighthouses. It is really worth to see it.
One evening to delight You
Rest of the evening you can spend in some entertaining way. What about some pub or restaurant? I recommend you Degustatornia – House of Beer, where you can try many different kinds of this golden liquor from all over the world. You won't be disappointed. If you prefer something non-alcohol Pi – Kawa is a most suitable place. It offers amazing variations about tea or coffee as also delicious desserts.
Saturday
Relaxing Morning on the Beach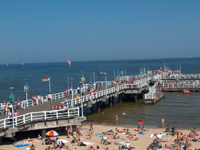 Brzezno Beach Pier
Hello! We haven't much time for laying on a beach, but it's nice to start a day with an hour or two of sunbath. That's why first point of our today's sightseeing will be Brzezno Beach. This is one of the most beautiful beaches of our coast, so it will be good place to accumulate some energy before we start running around the city. You may try to swim, but Baltic is unfortunately cold sea so it may be unpleasant experience.
Among the monuments of Main City
Major part of this day is Gdansk Main City sightseeing. Most of important monuments are in area of Long Market so we will slowly visit and admire each one. Probably the greatest impression is always made by historical city hall, but other sight like medieval fortifications remains are also delightful!
Sailing Adventure and the piece of World War II history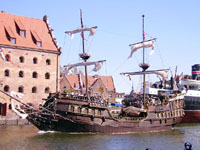 Sailship "LION"
After long admiring of historical places it's time for lunch. In area of Main City there are few great restaurants. People of Gdansk say, that the best one is "Pod Lososiem" which is famous of delicious fishes.
Westerplatte Defenders Monument
Later we're going to fish market, where the sailing ship "Lion" is moored. We'll get a cruise from Gdansk to Westerplatte, place of first German attack during World War II. Cruise is staying about half hour and after that we'll be able to admire the monument of Westerplatte Defenders. Later we'll go to see another important place of World War II, Seat of Polish Post where one of the most glorious events had place.
Party Time!
Centrum Stocznia Gdanska
Dusk is falling, so it's time to think about some attractions for an evening. In my opinion it's good to mix sightseeing of one of the famous buildings in Europe with great party. We're going to Centrum Stocznia Gdanska – club and entertainment place, situated in famous Gdansk shipyard. CSG is very nice, safe place with great atmosphere and professional service. Enjoy your time, but remember, tomorrow you have a plane.
Sunday
Good morning. What a beautiful day, isn't it? We got still some time before we'll need to go to an airport so you can choose what to do. We can go shopping to Galeria Baltycka or Gdanska Hala Targowa. Second one offers many things which are suitable for souvenirs.
You can also spend some more time on a beach, to take a little bit of sun. The choice is yours. After all you'll be transfered to an airport. Have a nice and safe flight and see you next time in Gdansk!