Krakow
Krakow is a kind of phenomenon where the historic centre is the quaint and lively heart of the city.
place
20
most popular
attractions
people
200 000
customers
yearly
Annual TripAdvisor
awards
We have been a leader in serving foreign tourists in Krakow for 15 years. Our broad and direct contact with the most popular Krakow attractions enables us to offer our customers low prices with no intermediaries.
Our Customers
VIEW MORE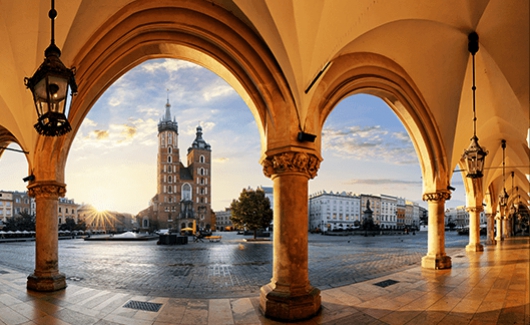 Kraków is one of the oldest and largest cities in Poland. It's the former capital and seat of the Polish kings. 1000 years of history has filled Krakow with one-of-a-kind architecture, centuries-old preserved buildings, and thousands of locals proud of their magnificent city. Voted European best destination, Krakow is brimming with splendid things to do for tourists of all ages. Travellers from all corners of the world flock to Krakow to experience the city firsthand. Many of them frequently leave Krakow to see its neighbouring sightseeing spots such as Auschwitz-Birkenau Museum and Wieliczka Salt Mine. A multitude of must-visit places has greatly improved its infrastructure and accommodation possibilities--Krakow boasts the largest number of hotels in Poland. Surrounded by the beautiful countryside, Krakow is also an amazing spot for people trying to unwind in the quiet atmosphere of the local villages or spend their time in an active way.